Buckingham Palace: The Queen's Gallery
★
☆☆
Visiting the Queen's Gallery of art of Buckingham Palace
Buckingham Palace's lovely little art museum is not actually comprised of the Queen's private art collection but rather the bulk of the collection that the Royal Family holds "in trust for the nation."
You might find anything from Old Masters to historic photographs (and, as might be expected, lots of royal portraits).
Among the masterworks are paintings by Leonardo da Vinci, Rembrandt, and Johannes Vermeer (his The Music Lesson, or A Lady at the Virginal with a Gentleman is a collection highlight).
There are also works by Thomas Gainsborough, Bernardo Daddi, Jan Steen, Giulio Romano, Van Dyck, and William Hogarth.
Items from the collection are exhibited on a rotating basis—they can only display around 450 works at a time—usually along some themed exhibition, so you never quite know what you are going to see.
The most recent exhibitions as I wrote this were "The Art of the Garden," "Dutch Artists in the Age of Vermeer" (when you own a Vermeer, you tend to flaunt it), and "Growing Up Royal."
Of course, many pieces are already on display in the State Rooms of the main palace, at Windsor Castle, Holyrood House in Edinburgh, and other Royal properties—though they will pop up here on loan if they support the current exhibitions.
The Queen's Gallery was opened in 1962 on the site of a chapel destroyed during the World War II Blitz.
The stately little Doric entrance portico was added in 1998–2002 as part of a renovation and expansion that tripled the gallery's size, so if you haven't visited since then it's worth popping in.
Tickets
Queen's Gallery Tours
Tours of Buckingham Palace that might also include Queen's Gallery
These might include Queen's Gallery
More tours
Tips
How long does the Queen's Gallery take?
You could see just the Queens Gallery in 30–40 minutes or so (depending on your interest in the current exhibitions).
However, to tour all the parts of Buckingham Palace takes a good 3–4 hours (assuming the State Rooms are open).
Note: If you are doing the Royal Day Out package, (all Buckingham sights), the last timed entry for the Queen's Gallery you can choose is at 2:45pm in August, 1:45pm in September (because your subsequent timed entry to the State Rooms will be for 2.5 hour after that).
How do I get to the Queen's Gallery?
The entrance to the Queen's Gallery of Buckingham Palace is on Buckingham Gate, around to the south (left) side of the forecourt.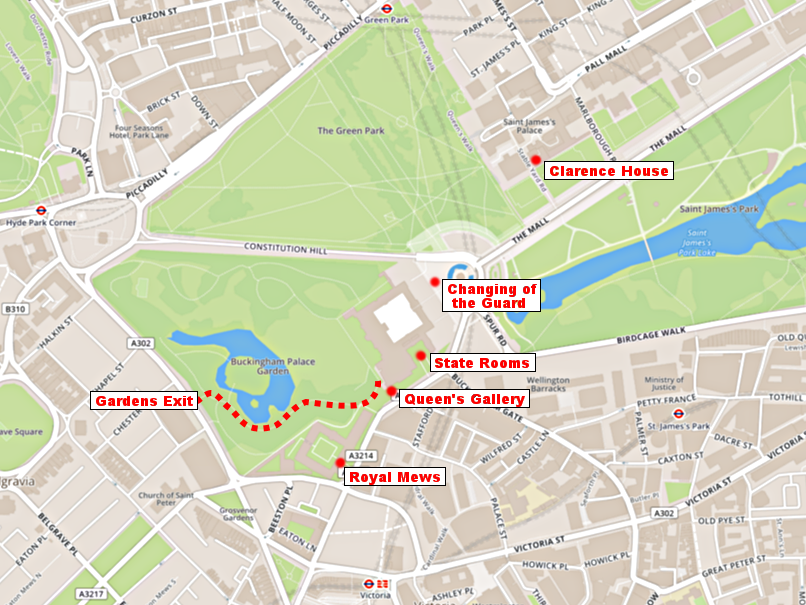 Related