Buckingham Palace: Royal Mews
☆☆☆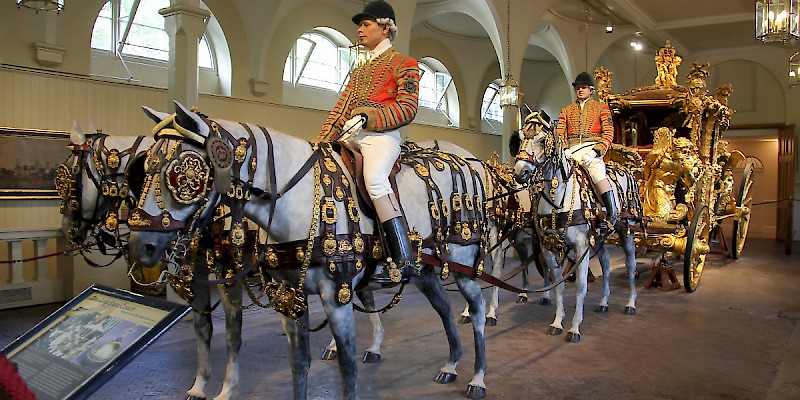 Visiting the opulent carriages of the Royal Mews at Buckingham Palace
This working stables and garage is where the Royal Family keeps its most pimped-out carriages and flash limousines. (Also be on the lookout for the royal mail carriage, which shuttles mail between various royal residences twice a day.)
Passing the stables—an equine palace lined by stalls for the royal Windsor Greys (the white ones) and Cleveland Bays (they're brown), each one named by the Queen—you enter the large courtyard that doubles as the Queen's own parking lot.
The coaches
Star of the show is the Cinderella-worthy Gold State Coach, used for the coronation of every monarch since George IV in 1821.
In 2014, the second royal coach to be built in a century was unveiled: the Diamond Jubilee State Coach, all luxe black lacquer tricked out with gold rims and frosted with gilded frippery (including the U.K.'s four national emblems: English Rose, Scottish Thistle, Welsh Leek, and Irish Flax). Check out how the lion on the Royal Coat of Arms keeps his eyes on you no matter where you move.
The riotous coach design actual incorporates hundreds of objects, including artifacts from The Mary Rose (Henry VIII's warship, which sank in the 16th century and was raised in 1982), and metal fashioned from the same stock used to make Victoria Crosses, Britain's highest military honor (supposedly melted down cannon seized from Russia during the Siege of Sevastopol).
The Imperial Crown on the coach roof was carved from oak that came from Admiral Lord Nelson's ship HMS Victory, and it hides a camera so the coach can record crowd footage—making this surely the world's fanciest GoPro setup.
Of course, when you are a princess or prince, you get to play with child-sized carriages designed to be pulled by ponies or donkeys—some even by dogs, sheep, or cows.
The cars
In the internal combustion department, the best of breed has to be the 1950 Rolls Royce Phantom IV, repainted from green to royal claret when Elizabeth II made it her official state car in 1952.
She more recently lent the car to Kate Middleton—or, rather, Lady Catherine, Duchess of Cambridge—to ride to Westminster Abbey for her wedding to Elizabeth's grandson, Prince William.
The Riding School
End with a peep into the oldest part of the Mews, the Riding School (built 1765–66, after George III bought Buckingham House and started expanding it into a new royal palace), where the royal and police horses and their handlers and riders still train.
Royal Mews Tours
Tours of Buckingham Palace that might also include Royal Mews
These might include Royal Mews
More tours
Tips
How long do the Royal Mews take?
You could see just the Royal Mews in 30 minutes or so (depending on your interest in pimped-out carriages).
However, to tour all the parts of Buckingham Palace takes a good 3–4 hours (assuming the State Rooms are open).
How do I get to the Royal Mews?
The entrance to Buckingham Palace's Royal Mews is on Buckingham Gate, around to the south (left) side of the forecourt and down the road almost to Bresseden Place.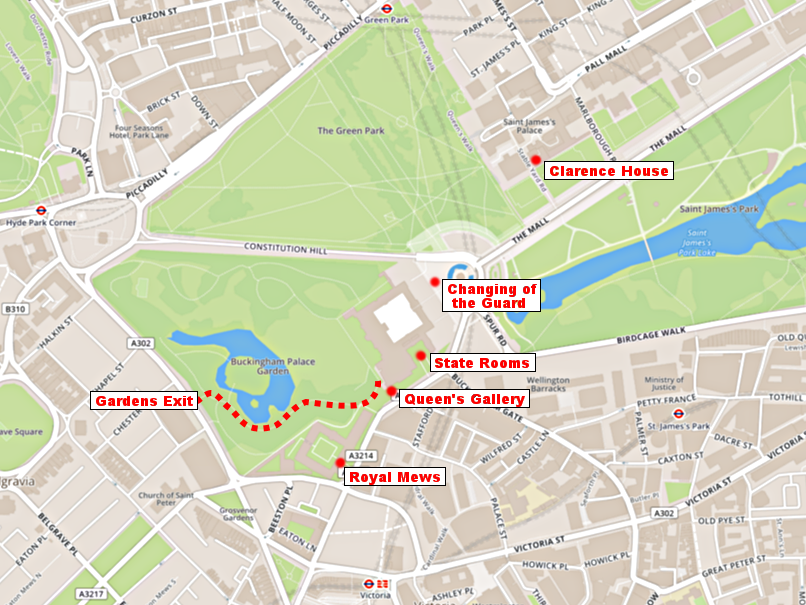 Related