Wellington Arch
★
☆☆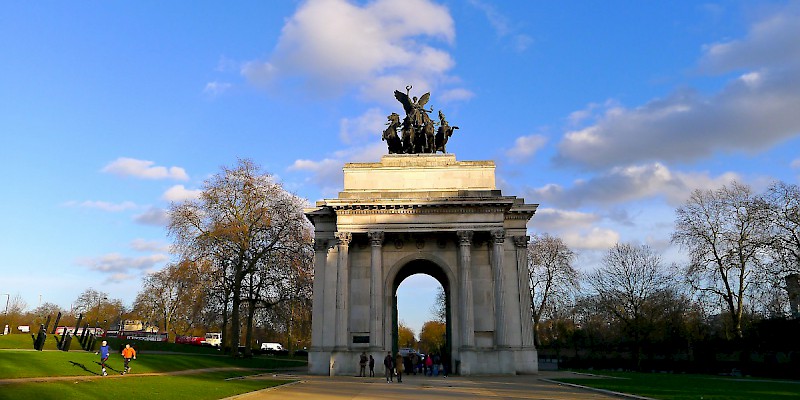 A monumental arch with some lovely London views
In 1825, George IV commissioned a pair of triumphal arches to commemorate Britain's victories in the Napoleonic Wars—Marble Arch, and Wellington Arch, which was also originally conceived to do double duty as a main entrance to the grounds of Buckingham Palace. (It was moved and refurbished in the 1880s.)
It wasn't until 1911-12 that the arch—built of London stock brick faced with Portland stone—was topped with the largest bronze statue in Europe, Peace Descending On The Quadriga Of War, cast by sculptor Adrian Jones. (A quadriga is a chariot borne by four horses.)
Before 1885, there was a large statue up there of the man himself, Arthur Wellesley, 1st Duke of Wellington, the victor at the Battle of Waterloo; it now resides in Aldershot, Hampshire.
In the 1960s, the rooms in the south leg of the Wellington Arch were somewhat unceremoniously turned into a ventilation shaft for the Hyde Park Corner underpass, but since 1999, the rooms in the right leg—and the third floor exhibitions space—have been restored and opened the the public, as have viewing galleries above the exterior columns that provide lovely, low-angle city panoramas.
Tips
How long does the Wellington Arch take?
To glance at it? A minute.
To go inside, give yourself 30–45 minutes.