Big Ben, Westminster, and sitting in on a session of British Parliament
★
☆☆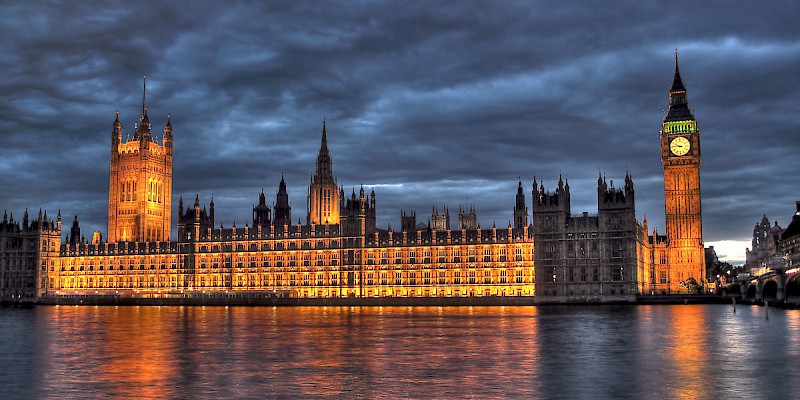 London's iconic exclamation point, the clock tower housing Big Ben, sprouts from the honey-hued complex of be-spired 1840 buildings where British Parliament meets (and you can attend sessions)
British Parliament meets inside a honey-hued complex of be-spired 1840 buildings designed by Sir Charles Barry in a Gothic Revival idiom that, more than most, sticks pretty faithfully to the old Perpendicular period's style.
(Bit-o-trivia: Sr. Barry's next architectural project was rebuilding Highclere Castle, better known to anglophiles as TV's "Downton Abbey")
Big Ben
Big Ben silent until 2021
On August 22, 2017, the bells of the Elizabeth Tower tolled their last chime for (at least) the next four years for a long-overdue restoration and cleaning of all the mechanics of the clock and structural elements of the tower.
If you just can't wait until 2021, click on the link below to hear them.
&nbsp
The most famous bit of this gargantuan confectionery of a building is the 336-foot
Elizabeth Tower
, home to the world's most famous timepiece, which is actually called the 
Great Clock of Westminster
—though often (though incorrectly) is referred to by the name of its chime's biggest bell, the 13.5-ton
Big Ben,
 standing more than 7 feet tall and 9 feet across, which intones the hours in a sonorous E-minor.
The famous Great Clock—still wound by hand—started ticking in on May 31, 1859 and continues to provide the time to more Londoners than does GMT, its 4.2-meter copper minute hands traveling the equivalent of 190km per year (always in a circle, though).
The hours hands are 2.74 meters long and are made of gun metal.
Once the tower is fully restored—by summer 2021, they primise—every quarter hour you will be albe once again the carillon inside playing part of the sequence of its famous tune, Cambridge Chimes in E-major (four notes at the quarter hour, eight notes at the half, etc). You get to hear all four parts of the tune at the top of the hour, after which Big Ben tolls the hour itself.
(Sadly, only UK residents can go inside the clock tower, and even then only by invitation from an MP.)
Touring the buildings and watching British Parliament in session
You can take tours (audio or guided) of the Houses of Parliament—and even have afternoon tea by the Thames—but I also highly suggest you come here to watch Parliament in session. 
If you thought the snide British hosts on reality shows were nasty, you ain't seen nothing like the kind of bile, outlandish insults, and centuries-long grudge matches that play out daily in sessions at British Parliament.
It's free to come watch these right proper MPs (Members of Parliament) spout witty obscenities and question each other's parentage as they discuss the issues of the day. Quite entertaining. C-SPAN should probably train a camera on these guys (it'd be a heck of a lot more fun than the yawn-fests our U.S. Congressmen conduct).
Members of the opposing parties (left-wing Labour and right-wing Conservative) sit facing one another in two long sections of fancy, bleacher-style seats—and there's a damned good reason these bleachers were arranged to keep the two sides two swords' lengths apart.
Parliament is in session from mid-October through late July. The insanely nutball quotient of inbred aristocrats was dealt a severe blow a last decade when the government finally decided to thin the ranks of the hereditary House of Lords (the upper house of Britain's Parliament, like the U.S. Senate), so the show at the House of Lords isn't nearly as much popcorn-crunching fun as the verbal brawl that often takes place in the House of Commons.
MPs also sometimes hold debates outside their main chamber in Westminster Hall, the oldest part of the entire complex, built in the 1100s.
Admission to all debates and parliamentary sessions is free, hours are in the "Details" box, and the line forms at the Cromwell Green visitor entrance. (When Parliament is not in session, you can tour the buildings, but you must book ahead and it costs £18.50 for an audio tour, £25.50 for a guided tour.)
Tours
Tips
How long should I spend at Parliament?
You'll see the Parliament Building and Big Ben from lots of places around London; you don't actually have to go out of your way to spend time here.
If you do, however, plan to go inside to observe a parliamentary session, expect to spend at least an hour to 90 minutes—including arriving 15 minutes early.