London buses & trams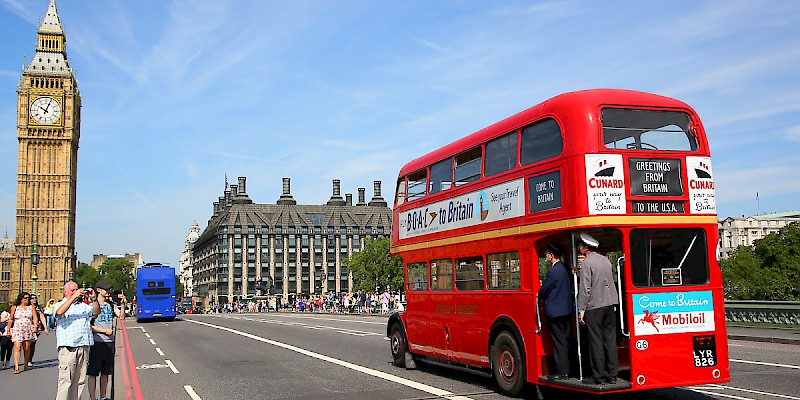 How to use the bus and tram system in London
London has a fleet of 6,500 red buses serving a staggaring 19,500 stops along 700 routes across London and carrying an average of six million people... per day.
Although you can use the Tube and its many transfer stations to tunnel your way just about anywhere in London, I suggest you ride the bus at least a few times—though not during rush hour—because at least for once you get to see where you're going.
Riding the bus gives you a much better feel for the city layout than when you travel underground—and for the flavor of London street life, shops, and neighborhoods. (This is especially true if you snag a seat up front on a double-decker bus.)
That is a trickier question than it seems at first. But first, a recommendation: Get an Oyster Card and either pay as you go (for stays of 1–4 days) or get an unlimited-ride Travelcard (for 5+ days).
Most visitors will be hopping on and off the Tube and buses so frequently, it will more than pay for itself, and you'll never have to worry about the actual cost of fares, daily price caps, and the like.
(Yes, there is a weekly pass good only on buses and trams, but that's meant for commuters. Just get the all-services Travelcard that's also valid on the Tube, light rails, etc.)
That said, you have multiple options when it comes to paying bus fares:
£1.50: Single ride using Oyster Card; daily price cap: £6.40 (best choice for stays of 1–4 days)
£32.10: Unlimited-ride 7-day Travelcard; (best choice for stays of 5+ days)
£2.60: Single tram ticket (bought from the automated kiosk at tram stops)
Kids under age 11 ride for free.
£26: All-day Hop-on/Hop-off bus pass (these tourist buses trundle around past most major sights on three lines—Red, Yellow, Blue—with unlimited-ride privileges all day).
Note: You can no longer buy tickets with cash on board a bus or tram from the driver.
When do the buses in London run?
It varies by route. Most London bus lines start between 4am and 6am, and end sometime between 11pm and 1am.
Frequency of buses, again, varies by line and time of day, but is roughly every 4–12 minutes during the daytime and evening, tapering off to 2–6 times per hour in the wee hours.
There are also night buses—some of which follow popular daytime routes, though often with fewer stops, others of which are special nighttime routes—start between 11pm and 1am and end between 4am and 6am.
Public transit links
Tfl.gov.uk - Covers pretty much all London transportation, including the Tube and buses but also taxis, the DLR and other local light rail systems, trams, the London bike share program, and other one-off transport options.
Nationalrail.co.uk - Covers all of the lines once operated by the (since-privitized) old British Rail. This includes most major British railways, but notably does not cover many urban area light rail systems (such as London, Glasgow, Manchester, Blackpool, Sheffield, and Midland Metro), nor does it cover the Eurostar, Heathrow Express, nor a handful of heritage or privately owned railways. Still, it's the closest thing to one-stop shopping for finding train connections across the mainland U.K. (though not Northern Ireland).
Tips
Where can I ride double-deckers & old Routemaster buses?
Those red two-story buses are an icon of London—and a fabulous way to take a quick sightseeing tour, a bird's-eye tour of the city at the price of a bus ticket.
There are three kinds of double-deckers plying the streets of London these days. You will mostly see the late 20th century boxy models, and the sleek, rounded New Buses.
The only public bus route now plied by classic old 1950s Routemasters is "Heritage Route" 15H (Trafalgar Square to Tower Hill). Most others you will see have been repurposed as sightseeing tour buses. » more
All stops are now "request" stops
Used to be there were "compuslory stops" and "request stops" for London buses, marked by different colors. Since 2007, however, TFL has made pretty much every stop "by request."
If the bus drivers sees you standing at a stop (and you wave at him, indicating it is his bus number you are waiting for) he will pull over to let you on.
If you are on the bus and wish to get off at the next stop, ring the bell by pushing the red "STOP" button on one of the poles.
Related
More on London buses and bus tours
Also in Getting around London:
Similar interests: