Cherhill white horse
☆☆☆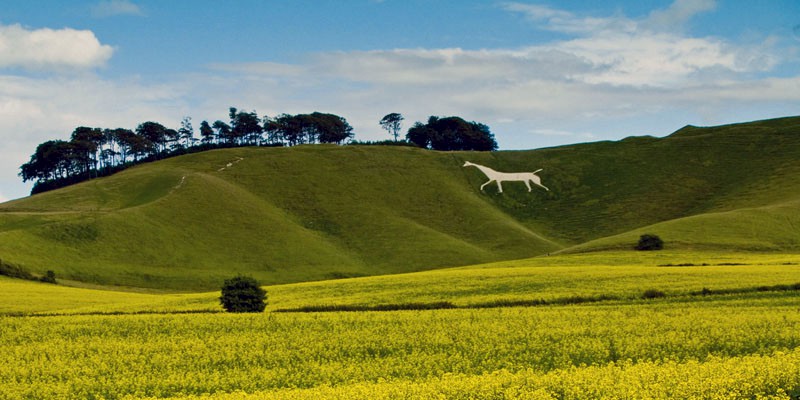 The second oldest white horse in Wiltshire is just a few miles from Avebury
In the late 19C in the town of Caine lived "the mad doctor," Dr. Christopher Alsop, was so taken with the Westbury horse that in 1780 he decided to carve his own on a slope east of his town called—amusingly enough—Labour-in-Vain Hill.
Calling instructions through a bullhorn to his workers, Dr. Alsop had them they strip away turf to expose the white chalk underneath.
It has been scoured and revived several times over the decades. The last big restoration effort—involving 160 tons of fresh chalk and wooden posts to maintain the outline—took place in 2002, and now a local preservationist group tidies up every two years aided by the area's scouts.
As you are driving from Avebury, there's a good viewing spot on a small road heading left (south) off the A4 just opposite, and a tad past, Park Lane (which is the first road, to the right/north, in the village of Cherhill).
That obelisk you see on a nearby hill is the Lansdowne Monument, erected by the first Marquis of Lansdowne (Prime Minister William Petty Fitzmaurice) to commemorate a famous ancestor, the noted economist, scientist, and philosopher Sir William Petty.
Related pages
Similar interests: