London Eye
★
☆☆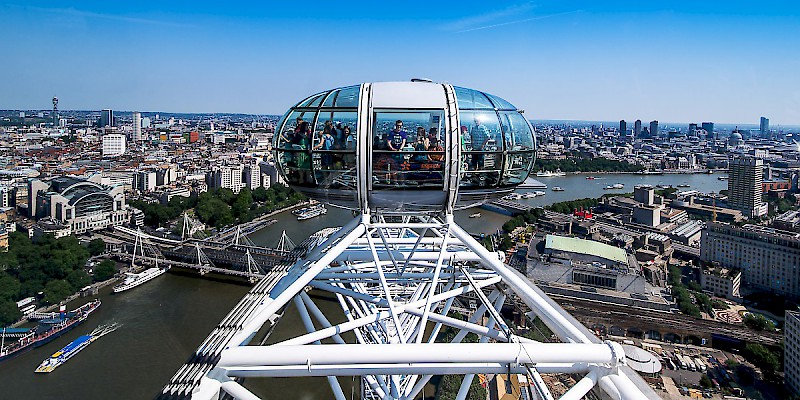 Lovely views from the world's most overpriced Ferris wheel
The most modern addition to the set of iconic London attractions opened in January, 2000 to tower 450 feet above the River Thames, gliding in a stately circle every half hour, adding a dramatic modern element the London skyline.
The London Eye is the largest observation wheel in the world—technically, it's not a Ferris wheel, because the capsules are enclosed and bristle from the outer ring of the wheel, and the whole thing is supported on one side only.
Basically, it's a giant bicycle wheel—only 200 times as big as the one on your Schwinn, with 80 spokes held together by more than 3.6 miles of cables. You ride in "the tire," inside one of 32 capsules that hold 25 people each.
The wheel whips around at the glacial speed of 0.6 miles per hour, and you board every half-hour. On a clear day, from the dizzying top of the circle, you can see 25 miles in every direction —though most people are looking down at St. Paul's Cathedral, Westminster/Parliament, and other, older icons of London spread below.
Ticket prices remain sky-high, even now that its original builder, British Airways, has since pawned the thing off on the Coca-Cola corporation (which means, thankfully, they are no longer insisting on calling each ride a "flight.").
A ticket that costs £21 is scandalous enough, but you have to cough up nearly £30 for the "fast track" line that only takes 20 minutes (rather than the usual 30–45 min wait). There are also tickets that include a glass of champagne or a Thames river cruise.
They've also added in the ticket office a short "4D" movie—bascially a 3D aerial flight over London in seats that move.
Tickets
Tips
How long does the London Eye take?
It makes a rotation every half-hour, so a ride on the London Eye takes 30 minutes. 
Budget another 20–45 minutes to stand in line (plus five minutes for the movie in the ticket office).