National Portrait Gallery
☆☆☆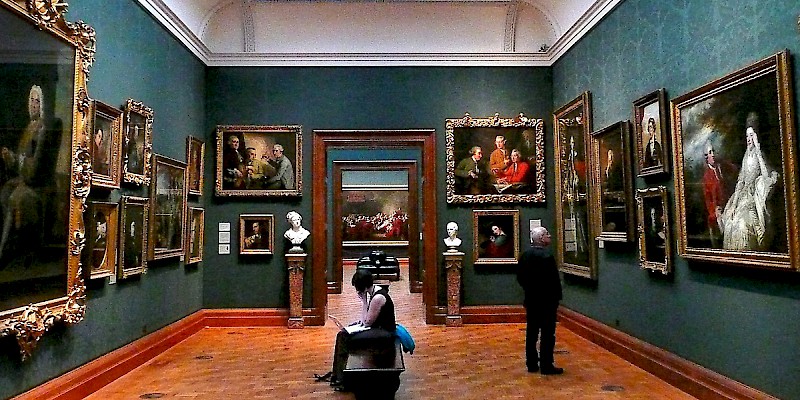 Packed with pictures of old Brits, including the only life portrait of Shakespeare
The world's oldest portrait gallery opened in 1856 (and moved to its current location, just off Trafalgar Square in 1896).
It just might be the only major museum of paintings on the planet where the curatorial mission almost entirely ignores the importance of the painters. It is the sitters who matter—some 200,000 portraits (paintings, photographs, engravings, and sculptures) important people from throughout British history, from royalty to literary Titans, artists of every medium to notable nobles across the ages.
Frankly, it is most of interest to those interested in history, though a few of the paintings are intriguing in of themselves as curiosities, including:
Portrait of William Shakespeare (1600/10) - The so-called Chandos Portrait (named for a former owner) is the only portrait The Bard himself actually sat for (supposedly), and was the very first donation to the gallery. It was painted sometime between 1600 and 1610, but precisely by whom has long been debated. Most accept it was a painter named John Taylor, as his name is the first associated with the work, but others attribute it to theatre impresario and Shakespeare patron Charles Burbage. 
The Brontë Sisters (1843) - There are better paintings of this famed literary trio, but this one happened to be painted by their brother, Patrick Branwell Brontë, who originally painted himself into this family portrait, but later replaced himself with a column (though you can still see his shadow in it). 
Self Portraits - Some of the few works by significant artists are, appropriately enough, self-portraits: an early Sir Joshua Reynolds at age 24, Sir Nathaniel Bacon (founder of British landscape painting), and Sir Anthony van Dyck.
Tips
How long should I spend at the National Portrait Gallery?
Most folks can only take so many paintings of old dead people—even if those people were famous and the paintings were made by some of the most famous artists in history. Figure on spending 45–60 minutes in here—longer if you are a huge British history buff.
Related pages
Similar interests: