The Pump Room
★★★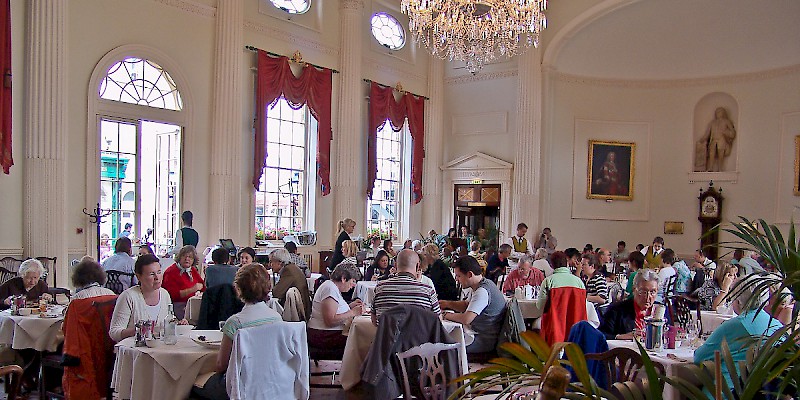 An elegant 18C hall for an elegant tea or luncheon
The elegant Pump Rooms were built in the 1790s—all Corinthian columns and chandeliers—and continue to offer one of England's classic afternoon tea services, with an musical accompaniment of a live trio or solo pianist and watched over by a statue of Bath's Georgian Master of Ceremonies, Richard "Beau" Nash.
In her novel Northanger Abbey, Jane Austen wrote of the Pump Rooms as the place where "Every creature in Bath... was to be seen in the room at different periods of the fashionable hours; crowds of people were every moment passing in and out, up the steps and down." (The ellipses are removing an otherwise out-of-context note that Henry Tilney, the main character, was the sole exception to this rule.)
An afternoon tea runs £25 per person, and consists of the classic tiered tray of:
Double-bite-sized sandwiches (cucumber, honey roast ham, egg salad and mustard cress, roast beef and watercress, poached salmon, tomato and chive cream cheese)
Scones (some cheddar, others plain, served with clotted cream and jam)
Desserts (fresh fruit tart, chocolate and coffee opera cake, raspberry choux, macaroons)
You can also get a good lunch here of Confit Scottish salmon, Wootton Bassett lamb, or a Somerset cider pork cutlet.
Be sure to stop by the fancy marble fountain to drink a cup of the famous Roman spa waters (taste: blech!). 
Also in Reid's List: Bath Dining:
Related pages
Similar interests: