Victoria Art Gallery
★
☆☆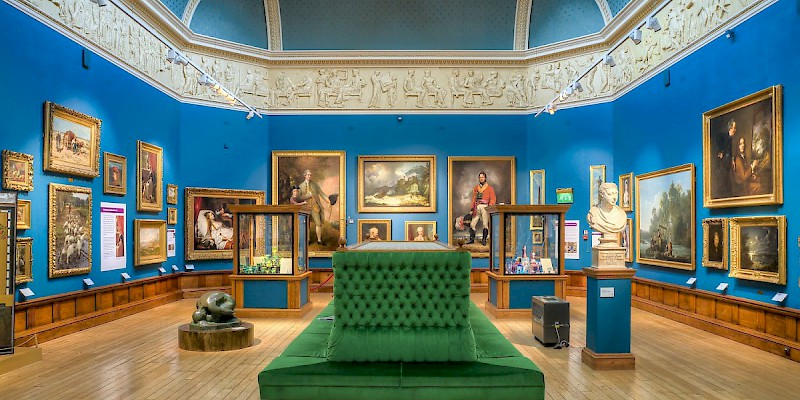 Bath's small public art museum has a nice collection including Gainsborough oil pantings
The Bath & North East Somerset Council's public art gallery named itself in honor of Queen Victoria when it opened on her Diamond Jubilee in 1900.
The collections aren't large, but give a good summary of art and decorative arts in the area form the past 500 years, especially the 17C onwards.
The ground floor galleries tend to be reserved for temporary exhibits, often devoted to regional contemporary artists (usually small fee); the permanent collections (which are free) are up on the more formally museum-like first floor.
Highlights include oil paintings by Thomas Gainsborough (who lived and worked in Bath from 1759–74), local boy Thomas Jones Barker (whose most famous work is here: The Bride of Death, painted for the daughter of King Louis Philippe of France), Walter Richard Sickert (a German early modernist who trained with Whistler, palled around with Degas, and died here in Bath in 1942), and JMW Turner, who painted the Bath Abbey West Facade (c. 1793) watercolor when he was just 18 years old.
There's also a smaller gallery stuffed—in appropriately Victorian style—with shelves of porcelains and Georgian drinking glasses. 
Don't miss the statue of Hebe by Italian Neoclassical master Antonio Canova in the zodiac rotunda at the top of the stairs (which also has a coin-op hot drinks machine and comfy chairs).
Sadly, due to governmental budget cuts this formerly free museum has recently had to start charging (a modest) admission for the temporary exhibition spaces—though the permanent collections upstairs is free, and everything is free for those under age 22.
Related pages
Artists & others: