Roman Baths
★★★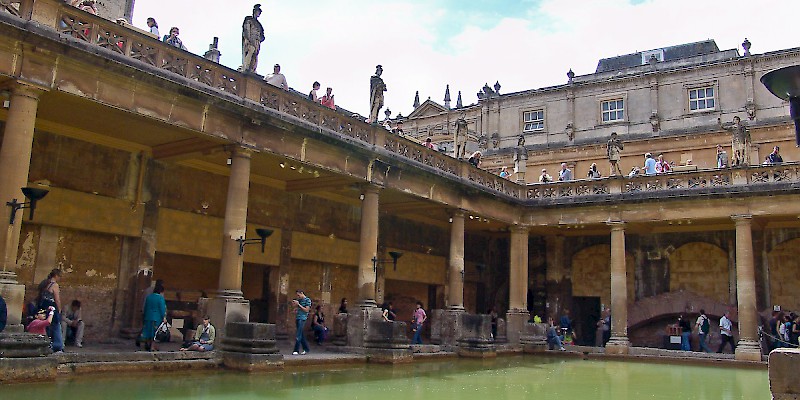 The ancient ruins of a Roman-era bath under the 18C and 19C spa
The Celtic Britons of the Iron Age had a shrine to the goddess Sulis at a natural hot springs by the banks of the River Avon.
Around AD 60, the Romans—who always loved a good spa—began building their own temple to the Celtic-Roman hybrid goddess Sulis-Minerva and named it Aquae Sulis, "the Waters of Sulis." This colony eventually grew into the town we now call Bath.
The Roman baths have been remarkably preserved. You can see not only the centrepiece open-air Great Bath pool, filled by the natural spring with waters at 46°C (115°F) to the tune of some 1,170,000 liters (240,000 gallons) of fresh water daily, but also the brick columns that once held up the floor of the caldarium (this gap under the floor was heated by fires to turn the room above into a steam room).  
Then there is room after room filled with bits of status, sculptures, mosaic, and other artifacts from Bath's first glory age in the first century AD, including the gilded bronze head of Minerva and the reconstructed temple pediment centered on a carved stone "Gorgon" that once gazed out from 15m (49 feet) above the ground.
(It is still referred to as a "Gorgon," thanks to an old interpretation linking gorgons to Athena, and therefore Minerva, because it has those famous snakes in its hair. However, since the Gorgons were female, and this bearded fellow is clearly not, modern scholarship pegs him as more likely a representation of the Celtic water god Oceanus.)
Other highlights include the Roman curse tablets—prayers (often for revenge) inscribed on small sheet of lead or pewter, rolled up, and tossed into the pool for the goddess to read—and the Beau Street Hoard, a collection of some 17,577 Roman coins ranging in date from 32 BC to AD 274 and painstakingly separated and cleaned.
Upstairs, you can pass through the Pump Room (highly recommended for tea), part of the second spa complex first built over the hot springs in the 17/18C.
In the Pump Room—and in a newer fountain in the wets baths—you can dare to sample the waters themselves—the Romans only bathed in the stuff, by by the 17C folks were drinking it as well, convinced that the dissolved minerals were salubrious. (I can only hope that the water's healthiness is in inverse proportion to how nasty it tastes.)
Tips
How long do the Roman Baths take?
Give a visit to the Roman Baths at least an hour. Ninety minutes would be better.
Note that the last entry is a full hour before closing time—so 5pm most of the year, 9pm in high summer.
Torchlit summer nights
On summer evenings, the Roman Baths stay open until 10pm, and the whole place is illuminted by torchlight, with costumed characters swanning around in togas to help bring that 2,000-year-old vibe to life.