Bath Abbey
★★
☆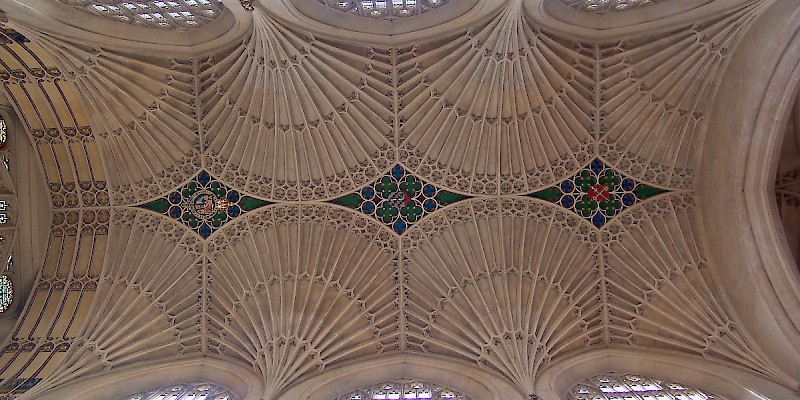 A gorgeous Gothic church in the heart of Bath
The Abbey is the focal point of Bath's medieval incarnation as a religious center, built on the site of an 11C Norman church, which itself took the place of an Anglo-Saxon monastery from AD 757 (where first King of all England, King Edgar, was crowned in 973).
The current church—elaborated in 1616, and expanded and given makeovers in the 1800s—is renowned both for the fantastic, scalloped fan vaulting of its ceilings and the odd, carved Jacob's ladders flanking the facade, which were inspired by a dream of bishop Oliver King, who was largely responsible for rebuilding this church.
The interior is a delight of Perpendicular Gothic Style, the ceiling vaults veined by elaborate fan vaults, the walls under the wide stained glass windows lined by hundreds of funerary plaques of Bath grandees over the centuries. 
There are also regular, wonderful organ concerts on the 1895 organ completely rebuilt and refurbished in 1997.
Tips
Tower tours
You can climb the towers on 50-minute tours that take you up 212 spiral steps and let you walk across the fan vaulted ceiling, sit behind the clock face, and get great views from the top.
Tower tours cost £6.
Tours are hourly on the hour on weekdays, half-hourly on Saturdays as follows:
Nov-Mar 11am–4pm 
Apr-Aug 10am–5pm
Sept-Oct 10am–4pm
The Heritage Vaults
Around to the right you once could enter the Heritage Vaults, whose meager displays trace the history both of the abbey, which in some form dates back to the sixth century, and of the city itself.
However, these have been closed indefinitely—and have since been replaced by a shop.
I mention them in case they ever reopen the collection somewhere in the church (or in case you had heard about them and were wondering where they went).